Presentation
The creation of Dofi Jet Boats goes back all the way to 1950 when two entrepreneurs, Quinquino and Tirol, launched the first regular line of maritime passenger transport on the Costa Brava.
On this route those first visitors got to discover the landscapes of this magnificent coastline, sailing along the many beaches and coves.
Although we're talking about many years ago, this spirit has remained unchanged and aims to provide the visitor with a new way of enjoying one of the most spectacular landscapes that exists, the Costa Brava.
Nowadays the descendants have modernized the boats and expanded the routes, meaning it's now possible to enjoy both the scenery and the different stops that are offered along the route between Calella, on the Maresme coast, and Tossa de Mar, in the heart of the Costa Brava.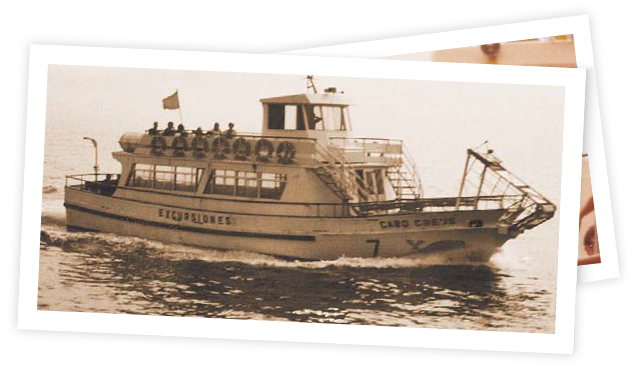 The route gives you the chance to admire the long, wide-stretching golden sand beaches all the way up to the mouth of the Tordera River. The city of Blanes, with "Sa Palomera", acts as a welcome gate inviting you to venture into the Costa Brava and the touristy area called Lloret de Mar.
From this point on, small coves take over until we reach Tossa de Mar, a charming village whose landscapes, history, cuisine and more are worth visiting.
We are committed to both the quality of service we offer our travelers as well as taking care of the environment where our activity takes place.
Since 1950,
come and enjoy the Costa Brava with us!